New CEO appointed at CEEGEX
---
Mr. Dániel Garai was appointed as the new CEO at CEEGEX, the Central Eastern European Gas Exchange, effective 1st of August 2020.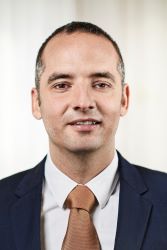 Following the decision of HUPX Ltd., the sole shareholder of CEEGEX, Mr. Dániel Garai has been appointed as the new CEO of CEEGEX, the Central Eastern European Gas Exchange Ltd. Having a strong background in various energy trading companies, Mr. Garai will take over the CEO position from 1st of August 2020.
"The main goal of my new assignment is to successfully lead the future projects of CEEGEX and to facilitate the development and liquidity of Hungarian gas market and also contribute to the liquidity of the regional gas market. I believe that the experience I gained from previous professional engagements will be beneficial in fulfilling my new position." said Dániel Garai after his appointment.
Mr. Garai attained his Degrees at the Budapest Business School and University of Pécs. He has been working in the energy industry since 2005, fulfilling senior positions at FŐGÁZ Zrt. in Budapest, and RWE Supply & Trading Switzerland SA in Geneva, Switzerland. As of 2012, he was CFO and Member of the Board of Directors at MET Hungary and afterwards Business Development Director. From November 2019 until his appointment as CEO at CEEGEX, he was the advisor to the CEO of MAVIR Ltd., leading the company's transformation program.
CEEGEX, HUPX Group and MAVIR Ltd. would like to thank Mr. Kornél Kovács, former CEO of CEEGEX, for all his dedicated work in the past three and a half years and for successfully managing the CEEGEX recognition as the reliable, liquid and important gas trading platform within the region. We wish him all the best in his future endeavours.
CEEGEX Central Eastern European Gas Exchange Ltd. was established by HUPX Hungarian Power Exchange Ltd. with the aim of developing a new and efficient gas trading platform in Hungary. CEEGEX operates a liquid regional gas market that is in line with the leading international practices, offers safe, trustworthy and long-term solutions for its partners while utilizing the available infrastructure and providing cooperation opportunities in the Central and Eastern European region.